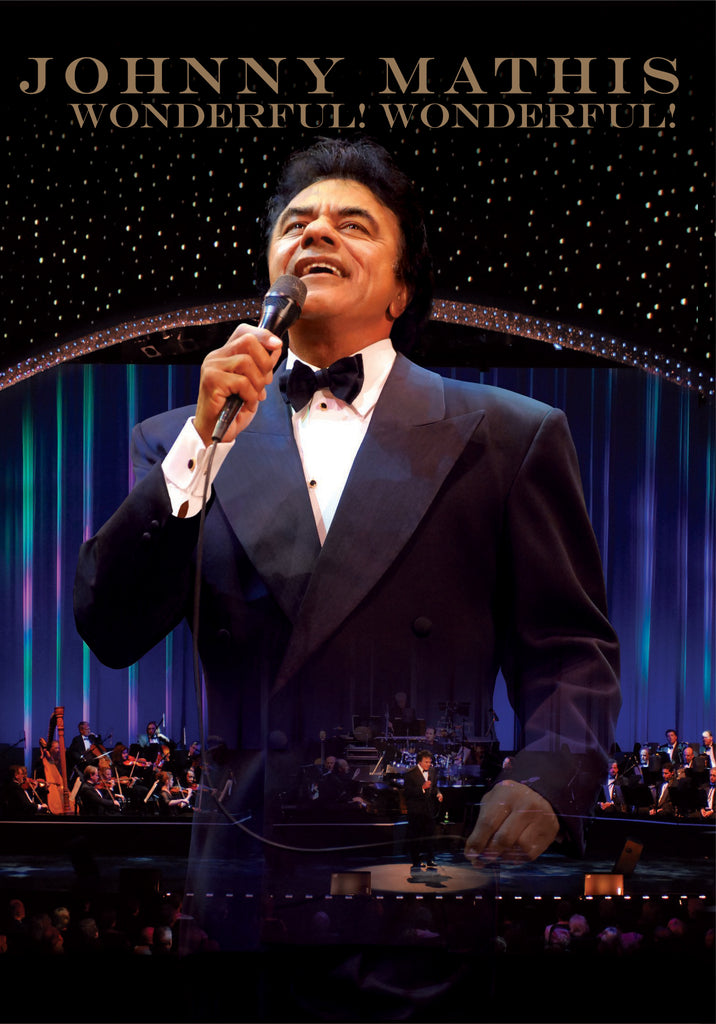 Johnny Mathis: Wonderful, Wonderful
---
Johnny Mathis: Wonderful! Wonderful! The hit concert with never-before-seen bonus footage & interviews available for the first time on this superb DVD. On October 27, 2006, when Johnny Mathis decided to celebrate his 50th anniversary in the music business, he gathered 2,000 of his closest friends at the Tropicana Hotel in Atlantic City and regaled them with an amazing concert called Johnny Mathis: Wonderful! That was both nostalgic and new. Here is this superb concert, for all his fans to enjoy, exactly as it happened, replete with Mathis standards and unforgettable hits, and loaded with many extras, in a breathtaking presentation that will endure for years.

Opening and Overture
"In the Morning"
Hits Medley
a. "It's Not for Me to Say"
b. "Chances Are"
c. "Wonderful! Wonderful!"
A Lot of Good Memories
"Let Go (Canto de ossanho)"
"To the Ends of the Earth"
"What I Did for Love"
Kismet Medley
a. "Baubles, Bangles and Beads"
b. "Stranger in Paradise"
"Secret Love"
Success Came Quickly
"Maria"
"Misty"
The Holy Trinity
"99 Miles from L.A."
"The Twelfth of Never"
My Craft
"A Certain Smile"
"Too Much, Too Little, Too Late" with Deniece Williams
Brazilian Medley
a."Manhã de Carnaval"
b. "Brazil (Aquarela do Brasil)"
"Pure Imagination"
Bonus Features
Mancini Medley
a. "Two for the Road"
b. "Charade"
c. "Days of Wine and Roses"
d. "Moon River"
"It's All in the Game"
"Let Me Be the One"
"Fly Me to the Moon (In Other Words)"
"Young and Foolish"
"Sands of Time"
"Felicidade"
"Pure Imagination"
"Toyland"
Tour of Johnny's Los Angeles home
Photo gallery

---
Share this Product
---
More from this Genre