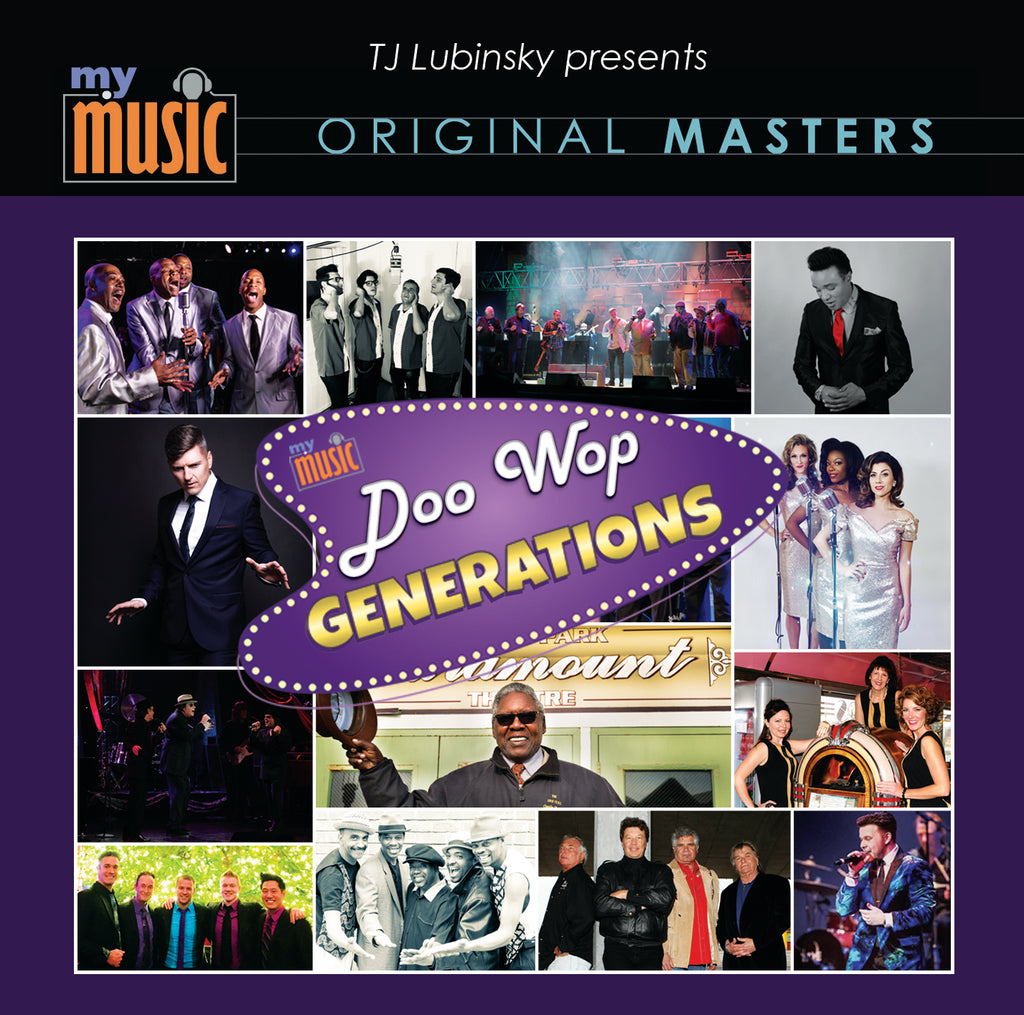 Doo Wop Generations: Original Soundtrack Album
---
Doo Wop Generations soundtrack
This new live cd set from the MY MUSIC: DOO WOP GENERATIONS special reunites the original artists of Doo Wop as they pass the torch to the next generation of singers. MY MUSIC searched the country to find a new generation of Doo Wop singers to pay tribute to these veteran artists as they return to the stage for a final celebration.
Performers include Kenny Vance & the Planotones, The Duprees, The Whiptones, Charlie Thomas' Drifters, The Modern Gentlemen and many more.

Tracklist:
1. Runaround Sue – The Del-Satins with the Virginia Gentlemen
2. The Lion Sleeps Tonight – Jay Siegal's Tokens
3. Book Of Love – The Tee-Tones
4. Tonite, Tonite – The Redondos
5. You Belong To Me – Cadillac Chris Ruggiero with The Duprees
6. Who's That Knockin' – The Whiptones
7. Sh-Boom – Street Corner Renaissance
8. A Thousand Miles Away – The Heartbeats with Street Corner Renaissance
9. The Angels Listened In – JT Carter's Group with Peter Lemongello, Jr.
10. The Worst That Could Happen – Brooklyn Bridge with JT Morgan
11. Dedicated To The One I Love – The Lovettes
12. Those Magic Changes – Asa Elliot and The Modern Gentlemen
13. Oh Rose Marie – Freddy Velas & The Silvertones
14. Born Too Late – The Whatabouts
15. Lollipop – Shy Of A Dozen
16. A Hundred Pounds Of Clay – Frank Pizzaro with the Cameos
17. My Prayer – Frank Pizarro with The Cameos
18. Stand By Me – The Cat's Pajamas
19. Since I Don't Have You – The Modern Gentlemen with The Skyliners
20. Angel Baby – Gwynn Alden
21. The Diary – Kid Kyle
22. Looking For An Echo – Kenny Vance & The Planotone
---
Share this Product
---
More from this Genre