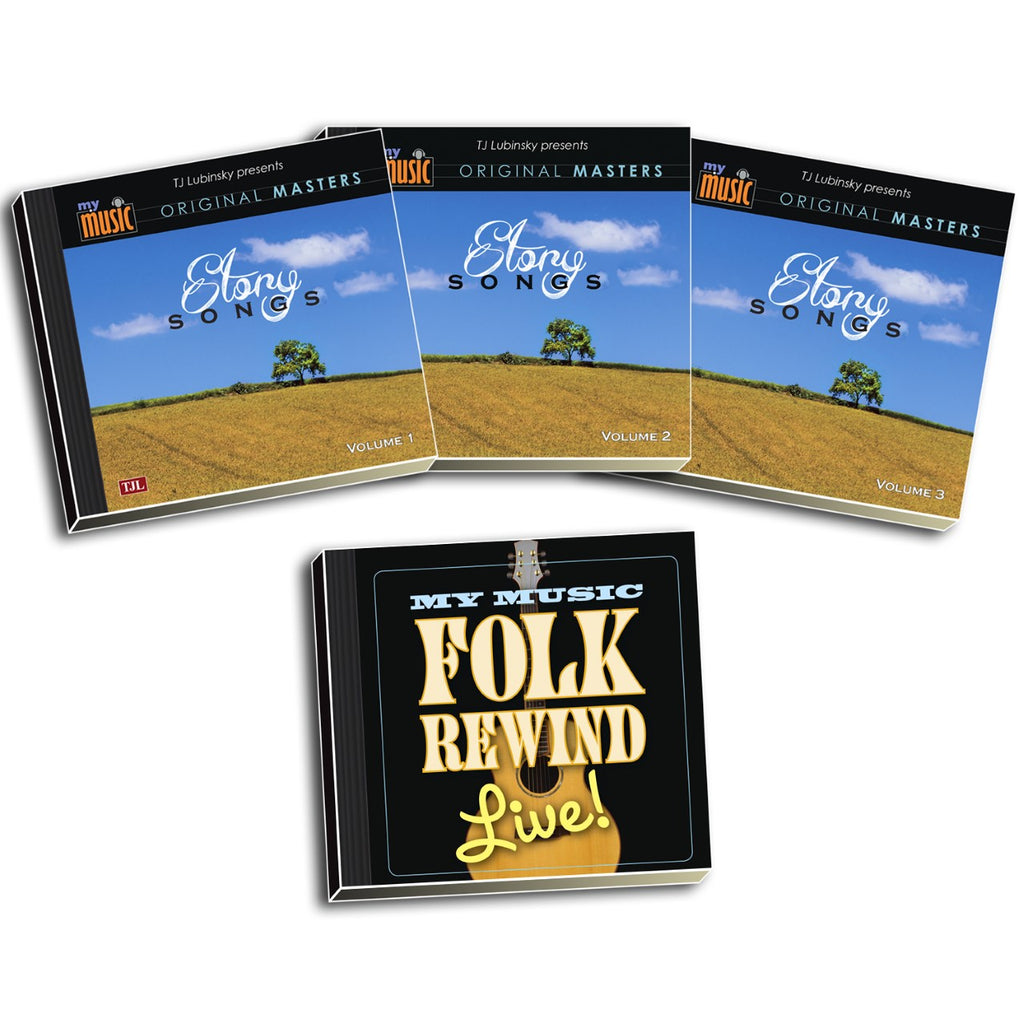 ---
STORY SONGS is a limited edition 4-CD set with over 80 original recordings by the original artists from the 1950s, 1960s and 1970s.
Enjoy over four hours listening to great hits with stories that have been passed on from one generation to the next. Among the all-time classics are Ode To Billie Joe by Bobbie Gentry; American Pie by Don McLean; The Gambler by Kenny Rogers; The Cat's In The Cradle  by Harry Chapin, Bad, Bad Leroy Brown by Jim Croce, Garden Party by Rick Nelson, and dozens more music tales that we know and love.
Not available in stores.
Volume One
1. Ode To Billy Joe – Bobbie Gentry
2. Wichita Lineman – Glen Campbell
3. Delta Dawn – Helen Reddy
4. Honey – Bobby Goldsboro
5. For The Love Of Him – Bobbi Martin
6. The Gambler – Kenny Rogers
7. Sixteen Tons – Tennessee Ernie Ford
8. Tom Dooley – The Kingston Trio
9. It's Only Make Believe – Conway Twitty
10. Coal Miner's Daughter – Loretta Lynn
11. Another Somebody Done Somebody Wrong Song – B.J. Thomas
12. Garden Party – Rick Nelson
13. Papa Was A Rolling Stone – Temptations
14. WAR – Edwin Starr
15. Someday We'll Be Together – Diana Ross & The Supremes
16. Tracks Of My Tears – The Miracles
17. Unchained Melody – The Righteous Brothers
18. One Tin Soldier – Coven
19. You & Me Against The World – Helen Reddy
20. Maggie May – Rod Stewart
21. American Pie – Don McLean

Volume Two
1. Big Bad John – Jimmy Dean
2. El Paso – Marty Robbins
3. D.I.V.O.R.C.E. – Tammy Wynette
4. Cryin' – Roy Orbison
5. Jezebel – Frankie Laine
6. North To Alaska – Johnny Horton
7. Break it to Me Gently - Brenda Lee
8. In The Still Of The Nite – The Five Satins
9. The End Of The World – Skeeter Davis
10. A Boy Named Sue - Johnny Cash
11. Coat of Many Colors – Dolly Parton
12. Little Green Apples – O.C. Smith
12. Midnight Train To Georgia – Gladys Knight & The Pips
13. Rocky Mountain High – John Denver
14. My Back Pages – The Byrds
15. It Never Rains In California – Albert Hammond
17. Don't it Make My Brown Eyes Blue - Crystal Gayle
18. Seasons In The Sun – Terry Jacks
19. Brandy – Looking Glass
20. Brother Louie – Stories
21. At Seventeen – Janis Ian
22. Tie A Yellow Ribbon – Tony Orlando & Dawn
23. Stand By Your Man – Tammy Wynette
24. Are You Lonesome Tonight – Elvis Presley

Volume Three
1. Wreck Of The Edmund Fitzgerald – Gordon Lightfoot
2. Alone Again (Naturally) – Gilbert O'Sullivan
3. Poor Poor Pitiful Me - Linda Ronstadt
4. Rock And Roll Lullaby – B.J. Thomas
5. A Horse With No Name - America
6. Cat's In The Cradle – Harry Chapin
7. Guitar Man - Bread
8. Patches – Clarence Carter
9. You Light Up My Life – Debby Boone
10. City of New Orleans - Arlo Guthrie
11. Please Come to Boston - Dave Loggins
12. A Rainy Night In Georgia – Brook Benton
13. So Sad To See True Love Gone Bad – The Everly Brothers
14. I Walk The Line – Johnny Cash
15. The Battle Of New Orleans – Johnny Horton
16. A White Sports Coat – Marty Robbins
17. Since I Don't Have You – The Skyliners
18. I Believe – The Earls
19. Take a Letter Maria - R.B. Greaves
20. I Am Woman – Helen Reddy
21. Since I Fell for You - Lenny Welch
22. I Just Can't Help Believing – B.J. Thomas

Volume Four (Folk Story Songs)
1. A Mighty Day - Chad Mitchell Trio
2. Blowin' In The Wind - Chad Mitchell Trio
3. Marvelous Toy - Chad Mitchell Trio
4. There's A Meeting Here Tonight - The Limeliters
5. Lonesome Traveler - The Limeliters
6. Green Green - Barry McGuire
7. California Dreamin' - Barry McGuire
8. Eve of Destruction - Barry McGuire
9. Who Will Answer - Ed Ames
10. My Back Pages - Roger McGuinn
11. The Times They Are A Changin' - Roger McGuinn
12. Eight Miles High - Roger McGuinn
13. Mr. Tambourine Man - Roger McGuinn
14. Turn, Turn, Turn - Roger McGuinn
---
Share this Product
---
More from this Genre