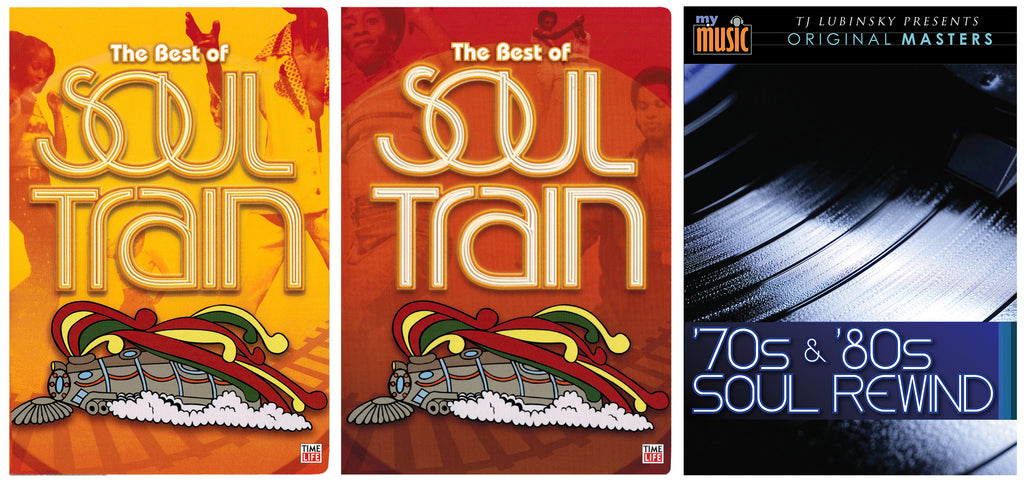 70s and 80s Soul Rewind (3-DVD Set)
---
My Music: '70s and '80s Sul Rewind (3 DVD Set)
Whoopi Goldberg introduces vintage 1970s and early 1980s soul-pop favorites with original footage by the artists who made the songs hits. Among the songs and acts: "Could It Be I'm Falling in Love" (Spinners); "You'll Never Find Another Love Like Mine" (Lou Rawls); "What You See Is What You Get" (Dramatics); "I Want You Back" and "ABC" (Jackson 5); "Let's Get It On" (Marvin Gaye); "Want Ads" (Honey Cone); "Rock the Boat" (Hues Corporation); "September" (Earth, Wind & Fire) "I Want Your Love" (Chic); and "Ain't No Sunshine" (Bill Withers).
Included with this set are two DVDs of THE BEST OF SOUL TRAIN that celebrates the innovative, culturally influential TV music show that featured one-of-a-kind superstar performances, outrageous fashions, hip dances, and the iconic Soul Train dance line.
THE BEST OF SOUL TRAIN features an amazing and rare collection of performances from the Soul Train archives including performances by The Chi-Lites, Isley Brothers, Lionel Richie & The Commodores The Hues Corp, and more.
DVD #1 - Superstars of '70s & '80s Soul
*** song not in broadcast program
1. Could It Be I'm Falling In Love - The Spinners
2. You'll Never Find Another Love Like Mine - Lou Rawls
3. What You See Is What You Get - The Dramatics
4. I Want You Back / ABC - The Jackson Five
5. Let's Get It On - Marvin Gaye
6. Want Ads - Honey Cone
7. Rock The Boat - The Hues Corp.
8. Disco Inferno - The Trammps
9. I Want Your Love - Chic
10. Ain't No Sunshine - Bill Withers
11. One In A Million - Larry Graham
12. Celebrate - Kool & The Gang
13. Have You Seen Her - The Chi-Lites
14. Three Times A Lady - Lionel Richie & The Commodores
15. Neither One Of Us - Gladys Knight & The Pips
16. Theme From Shaft - Isaac Hayes
17. Show & Tell - Al Wilson
18. Me & Mrs. Jones - Billy Paul
19. September - Earth, Wind & Fire
20. *** I'm Stone In Love With You - The Stylistics

DVD #2 - The Best of Soul Train
*** all bonus tracks
1. Who's That Lady - Isley Brothers
2. Live It Up - Isley Brothers
3. Summer Breeze- Isley Brothers
4. Release Yourself - Graham Central Station
5. Can't Get Enough Of Your Love - Barry White
6. You're My First, My Last, My Everything - Barry White
7. Love's Theme - Barry White & Love Unlimited Orchestra
8. What Am I Gonna Do For You - Barry White
9. Come Get To This - Marvin Gaye
10. Distant Lover - Marvin Gaye
11. Let's Get It On - Marvin Gaye
12. Dance To The Music - Sly & The Family Stone
13. I Wanna Take You Higher - Sly & The Family Stone
14. Mighty, Mighty - Earth, Wind & Fire
15. I Heard It Through The Grapevine - Gladys Knight & The Pips
16. Backstabbers - The O'Jays
17. Respect - Aretha Franklin
18. Rock Steady - Aretha Franklin

DVD #3 - The Best of Soul Train
*** all bonus tracks
1. Didn't I Blow Your Mind This Time - The Delfonics
2. Mr. Big Stuff - Jean Knight
3. Give More Power To The People - The Chi-Lites
4. Have You Seen Her - The Chi-Lites
5. The Bells - The Originals
6. I Gotcha - Joe Tex
7. Want Ads - Honey Cone
8. Thin Line Between Love & Hate - The Persuaders
9. Scorpio - Dennis Coffey
10. For The Good Times - Al Green
11. Love & Happiness - Al Green
12. You Ought To Be With Her - Al Green
13. Oh Girl - The Chi-Lites
14. War - Edwin Starr
---
Share this Product
---
More from this Genre